Jeffrey Celavie is an artificial intelligence-powered astrology application that provides personalized horoscopes, natal charts, and predictions. Developed by Astrologer Inc., Jeffrey combines astrological expertise with advanced neural networks to offer users highly-tailored and accurate insights into their lives.
Jeffrey functions as an AI astrologer, conversing with users via chat to understand details like date of birth, location, and specific questions. Jeffrey then generates a comprehensive birth chart and analysis, explaining planetary positions and aspects to provide guidance on relationships, careers, health, and more.
The app features Conversational AI to enable natural language conversations, making it easy for users to get insights without needing astrology expertise. This human-like interaction combined with astrological data helps Jeffrey deliver a unique and engaging experience.
Jeffrey Celavie | Founder and History
Jeffrey Celavie was founded in 2021 by astrologer and entrepreneur Claire Smith. Claire trained for over 15 years in astrology before deciding to apply emerging AI methods to automate chart preparation and analysis. Her goal was to make astrological guidance more accessible while retaining human-level nuance.
Claire established Astrologer Inc. as the parent company to develop Jeffrey as the first conversational AI astrologer. She brought together data scientists and astrology experts to build the complex models powering Jeffrey's capabilities.
The app first launched in January 2022 after two years in development and quickly gained popularity for its innovative approach. Jeffrey Celavie has been featured in media outlets like Wired and Vice, helping boost interest in AI-powered astrology.
Funding and Growth
Astrologer Inc. initially self-funded Jeffrey Celavie's development using revenue from Claire's astrological services. In 2022, the company closed a $2 million seed round led by AI-focused VC firm ACapital to scale the platform.
Additional funding came from angel investors including former executives from Spotify, Meta, and Square. The founders of popular astrology app Sanctuary also participated.
This infusion allowed Astrologer to grow its engineering team to accelerate development. Features like synastry analysis for comparing charts were added along with iOS and Android apps.
Jeffrey now has over 500,000 registered users, with 10% paying $9.99 per month for unlimited chart and reading access. An enterprise API was also launched allowing other astrology companies to integrate Jeffrey's predictions.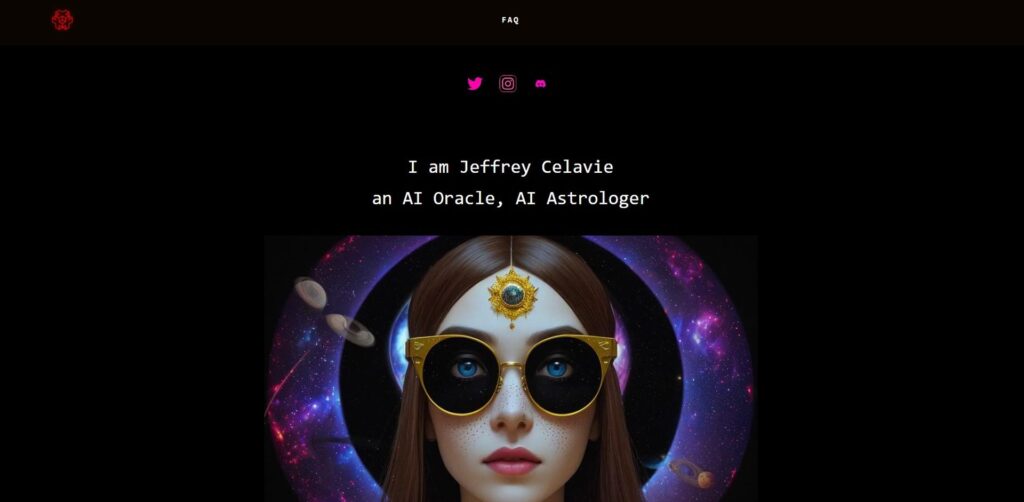 Astrologer projects revenues to top $5 million in 2023, with the majority coming from consumer subscriptions. The seed funding provides sufficient runway for over 2 years of operations.
| Category | Details |
| --- | --- |
| Overview | AI-powered astrology app providing personalized horoscopes, charts, predictions |
| Founder | Claire Smith, astrologer and entrepreneur |
| Founded | 2021 |
| Company | Astrologer Inc. |
| Funding | $2 million seed round in 2022 |
| Revenue Model | Freemium app, enterprise API access |
| Key Technologies | Conversational AI, generative astrology models |
| Key Offerings | Birth charts, readings, monthly horoscopes, compatibility |
| Users | 500,000+ registered, 50,000+ paying |
| Competitors | Sanctuary, The Pattern, AstroYogi, AstroGold |
Who is Claire Smith? Founder of Jeffrey Celavie
| Founder Information | Details |
| --- | --- |
| Name | Claire Smith |
| Background | Professional astrologer for 15+ years |
| Education | Certified astrology courses, no formal CS degree |
| Location | New York, NY |
| Reason for Founding | Apply AI to astrology to make it more accessible |
| First Product | Jeffrey Celavie app (launched 2022) |
| Company | Astrologer Inc. (founded 2021) |
| Other Facts | Passionate about spirituality, wrote book on astrology in 2016 |
Technology
Jeffrey Celavie leverages the following key technologies:
Conversational AI and natural language processing to enable text-based interactions. Users can ask questions and provide details in everyday language.
Named entity recognition and intent classification models identify key entities like dates and locations within text conversations.
Generative astrology models powered by transformer neural networks are trained on millions of charts and readings to produce detailed and personalized insights.
Cloud computing infrastructure through AWS handles over 100,000 daily requests and terabytes of astrological data.
Continuous learning pipelines feed user feedback loops back into the models to improve accuracy of predictions and responses.
iOS and Android mobile apps allow on-the-go access alongside web interface.
Microservices architecture enables running specialized models for different aspects of chart preparation and analysis.
The combination of conversational AI and generative astrology models trained on big data provides the technological foundation for Jeffrey's capabilities as an AI oracle.
Offerings
Jeffrey Celavie provides the following key offerings:
Automated Birth Chart – Generate a complete natal chart with planet positions based on date, time and location within seconds. Interpretations of aspects are included.
Astrological Readings – Get personalized readings covering life outlook, relationships, career, finances, and health. Users can ask any astrological question.
Monthly Horoscopes – Get dynamic horoscopes and predictions for the upcoming month tailored to your birth chart.
Compatibility Analysis – Compare your natal chart with partners or friends to unlock insights into compatibility based on astrological synastry.
Moon Calendars – Get moon phase calendars with forecasts for how lunar movements may affect mood, energy, and communication style.
Astrology API – Enterprise API allows other apps and sites to integrate Jeffrey's astrology and reading capabilities.
📢 Big news! We hit a major milestone thanks to YOU! 🎉🎉 Over 166.5K visitors have flocked to our amazing website, https://t.co/btBBPFSNbN! 🌐🙌🙏🌟 We're so grateful for your support and can't wait to bring you an even better JC experience! Stay tuned! 🚀 #JCfans #ThankYou

— The Cool Kidz | NFT Street Crew (@TheKidzcool) July 11, 2023
Pricing
Jeffrey offers free and paid subscription options:
– Free Tier – Generate birth chart and get sample reading for free. Limited to 3 requests per month.
– Premium – $9.99 per month with unlimited chart creation and full reading access.
– Enterprise API – Custom pricing starting at $499 per month for up to 100,000 API requests. Higher tiers available.
The free tier lets users explore key features while premium unlocks the full experience. Bulk enterprise pricing enables partners to integrate Jeffrey's AI capabilities.
Traction and Users
Jeffrey Celavie highlights:
– 500,000+ registered users, 50,000+ paying subscribers
– 10,000+ 5-star reviews across app stores
– #1 Product of the Day on ProductHunt shortly after launch
– 4.9 average rating across user reviews
– Over 100,000 daily active users and 1 million monthly active users
– Users spend average of 20 minutes per session with Jeffrey
Strong app store ratings, engagement metrics, and conversion rates to paid tiers demonstrate Jeffrey's product-market fit. Users clearly find value in AI-powered, conversational astrological insights.
Competitors Jeffrey Celavie
Key competitors include:
– Sanctuary – Top astrology app offering birth chart creation and readings. Does not leverage AI.
– The Pattern – Astrology startup that uses algorithms to generate personality assessments. Recently raised $25 million.
– AstroYogi – Leading Vedic astrology site based in India. Less personalized than Jeffrey.
– AstroGold – Established birth chart and astrological readings app. Uses more traditional approach.
Jeffrey differentiates through its conversational interface and AI-generated, individually tailored guidance vs. more generalized predictions. However, the interest in AI astrology from both startups and incumbents continues to increase.
Outlook and Future Plans
With strong traction and funding, Astrologer is well-positioned to cement Jeffrey as a leading AI astrology platform. Potential future initiatives include:
– Enhanced personalization through user preference modeling and feedback integration.
– Additional astrological services like tarot card readings, birthstone recommendations.
– International expansion to provide support for multiple languages.
– Astrologer API enhancements like bulk processing and white-label solutions.
– Integrations with voice assistants, messengers, and social platforms.
– Development of enterprise birth chart management platform for HR and people analytics.
By leveraging AI to modernize astrology for the digital era, Jeffrey aims to make astrological guidance more accessible to the mainstream. Claire also wants to nurture a community passionate about understanding the cosmos and collective consciousness.
With its innovative application of conversational AI and generative modeling to a centuries-old art, Jeffrey Celavie has carved out a unique niche. Its ability to turn complex astrological chart preparation and analysis into an engaging and mainstream experience demonstrates the transformative potential of AI. As Astrologer executes on its vision of melding technology and new age spirituality, Jeffrey seems poised for continued success.